chiaPanther wrote:
At first I thought this might be the craziest idea ever.... But, something about it made me do some research.
First off the Cubs; Private Wrigley Bleachers. They are not temporary structures. Here is some history from Wiki.
https://en.wikipedia.org/wiki/Wrigley_Rooftops
Then I researched temporary bleachers and looked at the Proposed renderings of our completed stadium and photos of our current incomplete stadium.
Lets start with the temporary bleachers; the below link is a company that rents bleachers. As FIU has had temporary bleachers before at ground level both for Football and Baseball, I would suspect we already have a vendor.
https://bigtenrentals.com/
https://rentalbleachersinc.com/bleacher ... tor-chart/
The problem with the temporary bleachers is:
1. The footprint. If you have ever walked the current "second level" concourse you know that it is not infinitely wide. FIU would need to supply front walking/ADA access. In my opinion the maximum width of bleachers would be 40' or approx. 20 rows.
According to the website a 20 row by 210 ft long bleacher will hold 2440 seats. Assuming we could set 420' of total bleachers on the concourse, that would be just under 5000 seats. Lets say 7000 seats just the shits and giggles.
Below is our current stadium: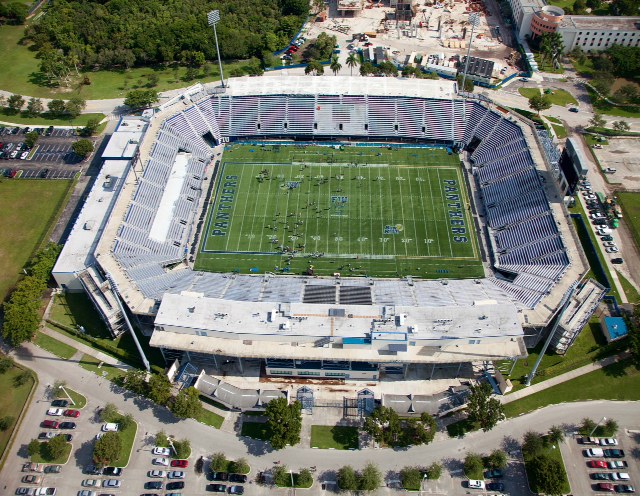 2. The Concourse: Can the concourse support the weight of the loaded (full to capacity) railings? Looking at photos of the renderings the Second level appears to be mostly supported by the beams that would be extended when we expand our stadium. This can be seen in similar buildings at UCF (corrosion aside) and FAU.
I would guess (and it's just a guess) that the concourse cannot support the weight at least not the concourse around the end zones.
I don't think this is feasible.
If the most you can do is 7,000 or so seats, that's not even worth it, even if the stadium could handle the added weight. That's still 20,000 or so under the 50,000 you can realistically expect for FIU-Miami.
Unless you can get at least 40,000 in that stadium somehow, I don't think you can play the Miami game at FIU. The school would lose too much money otherwise.
Diagodog wrote:
Surely, Shirley, there was thought given to the size of Ricardo Montalban Stadium when this home and home deal was made. How on earth could it possibly have just come to anyone's attention that the stadium holds 21,000 or so? And now it would seem that we have closeted UM fans coming on here wanting to hand over a home game to the Canes because they are terrified that playing at FIU might result in an upset for the ages, this under the same guise that had the money changers operating in the temple, ie, profit. Playing this game in Sweetwater is the morally correct thing to do. But that does not mean that the money changers, Pete, and the UM power cabal will not conspire to have their way. What a terrible shortchanging of the players, the few true fans, and yes, even the student "body" it will be.
I'm sure they knew that. And I'm sure that's why FIU will play this game elsewhere.
Playing at home may be morally correct, but athletics runs on money, not morals. And money is what you'll need if that second deck is ever going to be built.
I would be very surprised if UM were the ones insisting on playing this game elsewhere. It's an FIU home game. They would not get any of the proceeds (even if it was at Hard Rock). It wouldn't matter to them financially. My God, they've played at FAU and are set to play at Appalachian State this year. Does that sounds like a school who cares about stadium size?
If I had to bet, I'd say this is coming more from PG and the admin, not Miami. They know the potential windfall. They don't want to lose it.